How It Works
The package bondshell must already be in AIF format - this is a simple ASCII format developed by Artwork Conversion and Amkor and which has received widespread acceptance in the packaging industry.
The ReadAIF program is a SKILL module installed into your copy of Virtuoso. It reads the AIF file and can map different sections of the package to layers that you specify in a layer dialog box.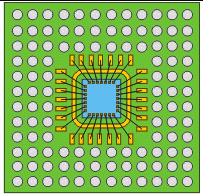 The package is divided into the following "groups" each which can be placed on a user specified layer in Virtuoso.
BGA - this consists of the ball pads and an outline.
Fingers - this consists of polygons representing the fingers and text labels (whose reference point is at the center of the finger or in the case of a leadframe whose reference is at the wire attach point.)
Wires - these consist of paths that start at the die pads and run to the fingers or rings.
Rings - these consist of polygons or paths.
Die - this includes the die pads (polygons) and the die outline (polygon).