Mask Creation Dialog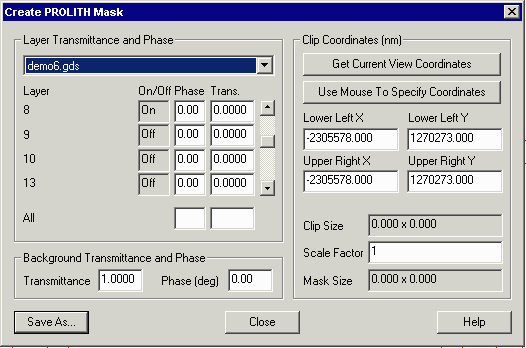 Dialog Functions

Layer Transmittance and Phase - define the transmittance and phase for the polygons (i.e. the digitized data.) If you have selected more than one layer, each layer can be assigned its own transmittance and phase. The program displays the layer/datatype that is turned on at the display.

Background Transmittance and Phase - define the transmittance and phase for the background. Even if you have opened multiple layers, there is still only one setting for background transmittance and phase.

Get Current View Coordinates - pressing this button will load the coordinates of the display window corners into the dialog. You can accept this data as is or enter your own values.

Use Mouse to Specify Coordinates - pressing this button enables you to go back to the Qckvu display and use a rectangular window defined by the mouse. The corners of this window are passed to the dialog.

Clip Size - the clip size is computed from the values in the Lower Left and Upper Right. If you edit those values the clip size will change accordingly.

Scale Factor - when viewing data such as MEBES for a reticle that is 4X or 5X you should enter the scale factor needed to reduce it to wafer dimensions.

Mask Size - the program computes mask size = [clip size] x [scale factor]. This is the size of the mask file and simulation region passed to PROLITH.

Save As - once all of the mask creation parameters have been set, click on the Save As ... button to create the PROLITH mask file and save it to disk.
File Name Selection

Enter the file name you wish to use for the PROLITH mask file. Press Save and the mask file is created in the selected directory with the name you chose.