Info on Qckvu for PROLITH Evaluation License
Qckvu for PROLITH uses the Flexlm licensing system. For evaluations or for laptop computers it is no longer necessary to install the Flexlm license server. Instead, we can issue a license that is locked to the machine's ethernet card or to the disk volume serial number.
Determing Your Computer's ID
To get your computer's ID you should download the utilities provided by Globetrotter and the run the program called v8_lmtools.exe. A screen will pop open. Make sure you have selected the tab called System Settings.
Laptop User?
If you are a laptop user, you should first disconnect from the network and reboot your machine prior to running the v8_lmtools.exe utility. Some laptops are configured in a way that reports a different or additional ethernet address when connected into the network than when not connected. By disconnecting and rebooting, you will provide us an ethernet address that is valid both when connected and disconnected from the network.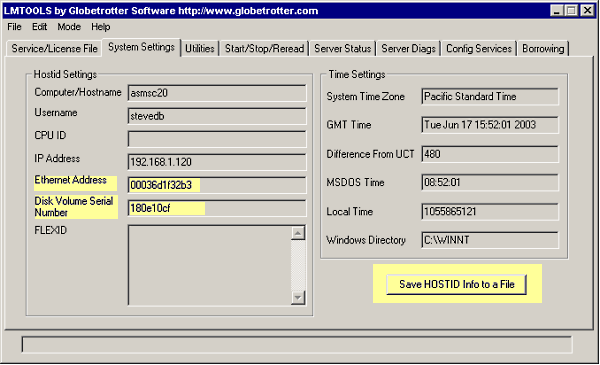 Once you have run the v8_lmtools.exe you should save the Hostid info to a text file using the button provided for that purpose. Then attach it to your email: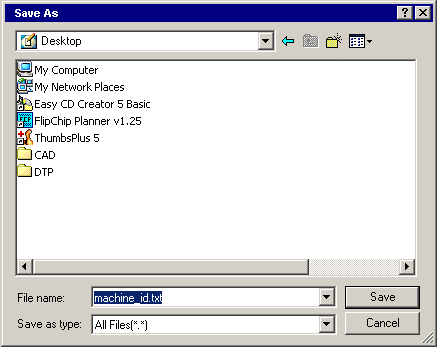 Sending the Right Info with your Request

To: Cynthia Johnson of KLA-Tencor Sales Operations

From: Joe Litho

Re: Evaluation Request for Qckvu for PROLITH

Please send me an evaluation license for Qckvu for PROLITH
on Windows 2000. My computer's id information 
as generated by v8_lmtools is attached to this email.


Thank you,

Joe Litho

attachment: machine_id.txt


Getting Your License File
You will receive an email back with an attached file containing your evaluation key strings. The file is normally called flexlm.lic
Typical contents of flexlm.lic


FEATURE ACS532O artwork 1.0 15-sep-2003 uncounted HOSTID=00036d1f32b3 \
SIGN="00CA A922 5F0D 9991 63DC 0AFC 1B7D 4700 D26B 3042 8675 \
023F 722C FD44 4EB5"


Notes:

ACS5320                 is the product ID for Qckvu for PROLITH
15-sep-2003             is the license expiration date
HOSTID=00036d1f32b3     is the ethernet address of the computer.