Device Image
At AMD, the bond drawing document includes a BW image of the die. This helps the operator determine that the correct die in the correct orientation is in place.

This image is obtained as follows:

The device's GDSII file is loaded and the user specifies which structure and layers to plot. He also specifies the size of the TIFF bitmap he wishes to create.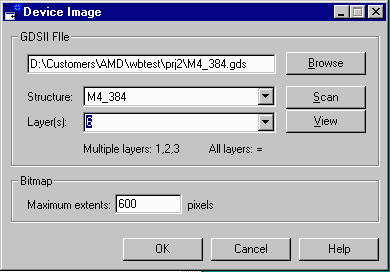 The GDSPLOT program then rasterizes the devices GDSII file and creates a BW TIFF bitmap. AutoCAD can then import this bitmap and superimpose it on the die bond drawing.