Images
An image is a window defined on the reticle. The stepper has a set of blades that mask off all but the selected region on the reticle. So a single reticle might have different items on it: The actual devices (often referred to as the product), some test devices used to monitor the process, some alignment devices used to calibrate and monitor the alignment between layers and some identifiers. All of these can be placed on the same reticle and the stepper's blades are used to define what gets exposed when the light shines through the reticle.
The stepper control file defines a masking window size and an offset from 0,0. In addition one has to take into account that the reticle is normally 5X and that the reticle coordinates are mirrored around the Y axis to take into account for the fact that the chrome side when used on the stepper is the opposite of that when viewed from the mask writer.
It is the image inside of that window that must be obtained from the MEBES data used to produce the reticle. Othewise all that can be viewed is the "outline."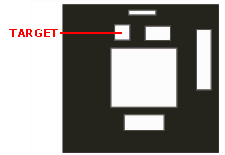 Suppose we wish to place the small target on the wafer in several locations. The stepper must be instructed to mask off all of the reticle except for the target.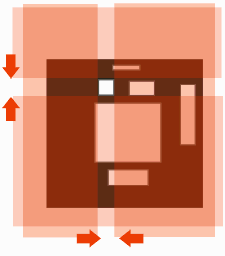 the stepper uses two pairs of "blades" to mask off everything but the desired element.