Winding Rule
Definition - The winding rule is used in order to determine which regions are "filled" when processing a polygon tha self intersects. In the EDA world, it is important to be consistent with the CATS program which is used by a majority of the mask shops to convert databases such as GDSII and OASIS into mask writing commands. CATS supports two options: ON and OFF which are illustrated below:
Consider this polygon(boundary) that self intersects. The vertices are labeled in order.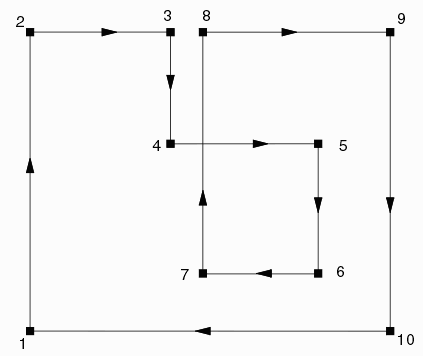 Winding Rule = YES
A scan line algorithm running from left to right is used to separate the interior from the exterior of the polygon. Each time the scan line crosses a vertical edge going upwards the rule count is incremented by +1. Each time the scan line crosses a vertical edge going down the rule count is adjusted by -1. Then we could label the regions as shown below: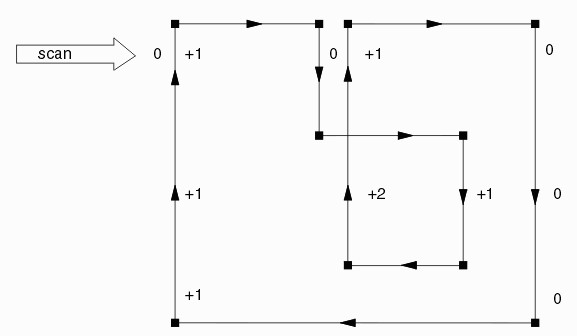 Now the rule (with option YES) says: any region with a non-zero value is defined as data.
So we should render the polygon as shown below: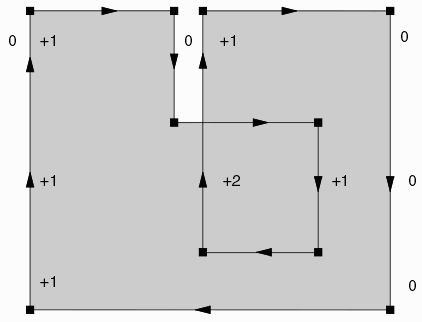 Winding Rule = NO
For the CATS winding rule = NO option, we still increment or decrement the region value based on the vertical edge direction; however the rule now states:
Any region with even value = empty; regions with odd value = data.
Therefore we would render the polygon as shown below: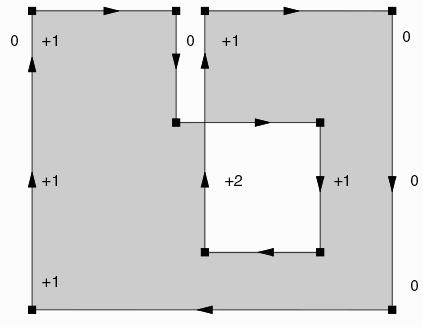 ---