DXF2GBR Engine
Flashing Circles
Many AutoCAD designers use either circles or "donuts" in order to create circuit board pads in Gerber. The DXF2GBR engine has a way of converting circles and donuts into Gerber flashes.
This test file has two circles - one of diameter 0.650 and one of diameter 0.300. It also has a donut of outer diameter .110 and inner diameter 0.00.
---
How to Find the Circle/Donut Sizes
The first step in "flashing" circles and donuts is to obtain a list of the unique sizes that are used in the DXF file. This is done using the scan function -cscan as shown below:
a2g501.exe circletest.dxf -cscan circletest.cir
Upon opening the circletest.cir file one will see:

#
# Round
#
320:0.65
320:0.3
#
# Donut
#
320:0.11,0
#
# Polyline
#
320:0.055

The report shows that there are 320 0.65 diameter circles and 320 0.3 diameter circles. There are also 320 donuts with outer diameter=0.11 and inner diameter = 0.
You can also see that there are 320 polylines with width 0.055. This is because AutoCAD really does not have a donut entity. Although the user specifies an outer dia., inner dia. and center point to create a donut, AutoCAD actually stores the donut as a polyline arc with width that is 1/2 of the difference between the outer and inner diameter.
---
Adding the Matching Apertures to the APT File
In order to get these circles and donuts flashed, one must first make sure the in the .apt file there is a corresponding aperture defined for each unique size. In the aperture file below, we added three apertures: D12 for the .650 circle, D13 for the .300 circle and D14 for the .110/0.00 donut.

APTUNITS mm
FORMAT 4.3
SUPPRESS LEADING
SUPPRESS CR
CIRCULAR on
GBR_END M02
TEXT D10
LINE d10
ARCRES 9
FONT C:\Program Files\AutoCAD 2002\Fonts\romans.shx
FONTDIR C:\Program Files\AutoCAD 2002\Fonts
CIRANG 360
ABSOLUTE on
FTEXT 50
D10 0.005000 d Round 0.005 0.005
D11 0.01 d Round 0.01 0.0000000
D12 C_6500 f Round 0.6500000 0.6500000
D13 C_3000 f Round 0.3000000 0.3000000
D14 D1100X0000 f Donut 0.1100000 0.0000000

---
Updating the .CIR File to Map circles to Flashes
The last step is to update the .CIR file which was created by the -scan option. After each entry in the Round/Donut section that you want flashed, you must append the Block Name and the D-code.


BEFORE UPDATING .CIR                 AFTER UPDATING .CIR
--------------------                ------------------------
#                                     #
# Round                               # Round
#                                     #
320:0.65                              320:0.65@C_6500:D12
320:0.3                               320:0.3@C_3000:D13
#                                     #
# Donut                               # Donut
#                                     #
320:0.11,0                            320:0.11,0@D1100X0000:D14
#                                     #
# Polyline                            # Polyline
#                                     #
320:0.055                             320:0.055


After each entry that you wish to flash add the ampersand "@" sign followed by the block name created in the .apt file, separated by a colon ":" and then the D-Code. Then run the engine as you normally would. No additional command line options are needed:

The Batch File: 
C:\WCAD\ASM501\a2g501.exe "@C:\test\circletest.rsp" 0
 
The Response File
"C:\test\circletest.dxf" MM 0.001 "@C:\test\circletest.lst" 1 -z -nlnk -t1 -on10,10 -c:0 "-cfg:C:\test\circletest.apt"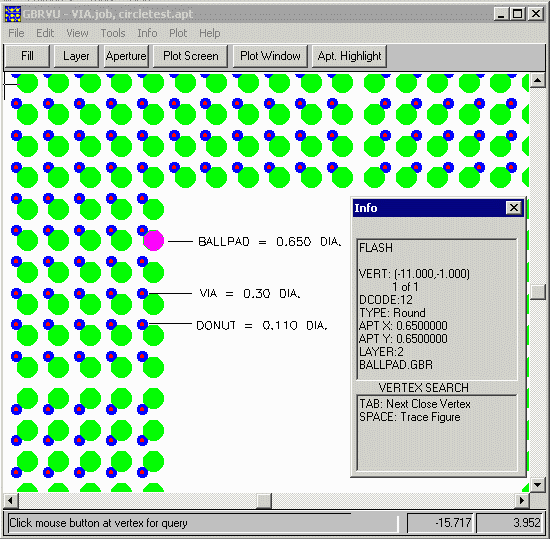 If you wish to duplicate this experiment with the file used in the example you can download them here. circletest.zip 14KB