How It Works
After selecting Poly Reversal from the menu pulldown the user is prompted to select the desired polygons to reverse. You can use any of AutoCAD's selection options: windows, crossing, fence etc ...
After selecting the polygons to reverse you must select a clipping polygon (or polygons)
You will then be prompted to enter a layer name for the results. If the layer does not exist, it will be created. If the layer does exist, it will first be "emptied" so don't specify a layer name that has anything on it you wish to keep.
Once you've selected a destination layer, the boolean runs.
To see a short video demo click below: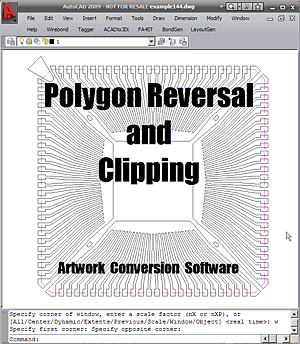 Click to Watch Video (2 minutes 20 seconds)