Downloading Qckvu3
You can download Qckvu3 for Windows from this page.
Requesting Password and License Strings
Prior to downloading you should contact Artwork and request the following information:
ftp server login and password
program installation password
program license strings
In order for us to generate license strings you need to provide us your machine's ID. This is best done by downloading the lmtools.zip utility and running it on your machine. Use the System Settings tab and copy the Ethernet Address that it displays. See below: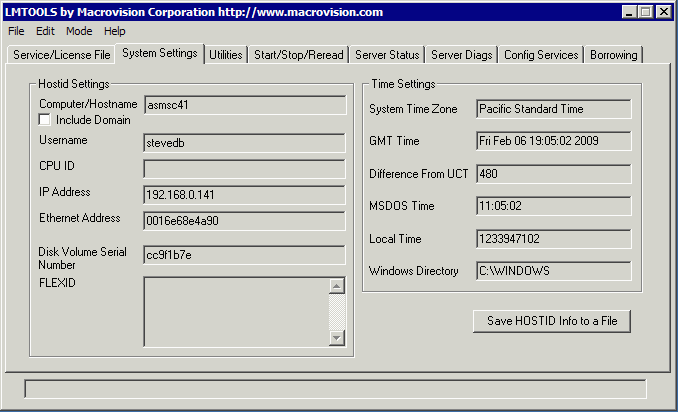 Downloads Windows 64

Qckvu3.x64.v3.61.exe

Qckvu3 64 bit 5/19/2017 8 MByte

vcredist_x64.exe

4.8 MB Microsoft's 64 bit redistribution library for VS 2008. If you start Qckvu3 and get a "side-by-side" error message then download this module and install it on your machine. It contains various libraries/dlls required by the 64 bit versioni of Qckvu3.
License Utility

v8_lmtools.zip

291KB zipped;711 Kb unzipped. Flexlm license utility for obtaining machine's identity and checking license manager operation. Execute this on your computer, select the System Settings tab, and email artwork the ethernet address reported by the utility.

A short tutorial on how to use LMTOOLS

https://vimeo.com/132869870

Problems Accessing our FTP Site?
Artwork's FTP site requires a login and password to gain access. This information will be provided to you with the license strings.
If after clicking on the link you get a This Page Cannot be Displayed error, this may be due to Internet Explorer's problems accessing password protected FTP servers. In that case, please review the possible fixes on our support page.