Installing the Extract3D Plug-In for Qckvu3
Download
To install the Extract 3D plug-in, first download the zip file from Artwork's web site.
Find the Qckvu3 Directory
Qckvu3 must already be installed. Locate the directory where Qckvu3 was installed. The default location is c:\wcad\qckvu3.
Change to the Plugins Directory
Now find the plug-in directory. The default is c:\wcad\qckvu3\Plugins.
Create a New Directory: Extract3D
Create a directory under Plugins called Extract3D. Please use the exact spelling as shown.
Unzip the Extract3D.dll into the Extract3D directory
Unzip (or copy the file if you have already unzipped it) into the Extract3D directory.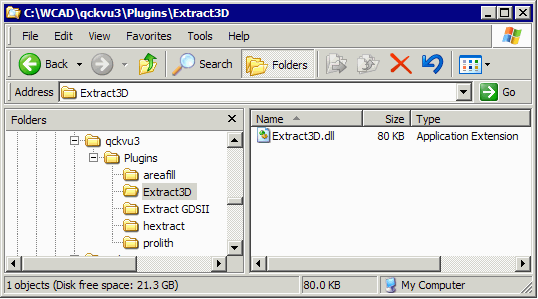 The next time Qckvu3 starts up it will scan the Plugins directory, find the new Extract3D directory and load the Extract3D.dll found there. A menu item in the Tools pulldown should appear.