Transform View Option
From the Settings Pulldown Menu, select the Transform View Option to open the Transform View Dialog Box. MEBES data is often scaled, rotated, or mirrored during the conversion from GDSII. For this reason, if two files donít match up accurately, the Transform View feature allows the user to change the way a MEBES or GDSII file is drawn in the display.
Mirror Transformation
In the example below, the Transform View dialog box has indicated a Mirror X command. You can see that the drawing, initially at 0,0, has been flipped on X axis.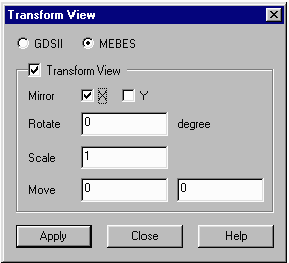 The Transform View Dialog with a Mirror X Command selected.