Leonov
Definition - Leonov is a term we use for a combination of boundaries where there is a single "parent" boundary who contains one or more child boundaries. This is named after the Russian mathematician, Michael Leonov, who wrote some seminal papers on boolean operations for such sets.
Notes
Whenever one must deal with a void inside of a boundary there is the issue as to how to represent this. On approach is to use a re-entrant polygon with cut lines. A second approach is to use Leonov polygons where each void is an independent boundary.
Bool.dll can write Leonov polygons and can read them. Some bool.dll functions do not support Leonov polygons.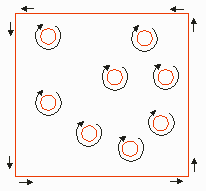 The parent must completely contain the children. The children may not touch the parent or other children.
---