Span Length
Span length is a parameter used by QckRip to more efficiently process layouts that have a large number of small repeating elements.
Consider a panel layout that has 5000 x 5000 small geometries on the order of 20 x 20 um in size. Without the span length operation, QckRip would create a bitmap of 20 x 20 um (at a pixel size of say 0.5 um) and use a bitmap copy operation 25 million times on a bitmap of only 1600 pixels.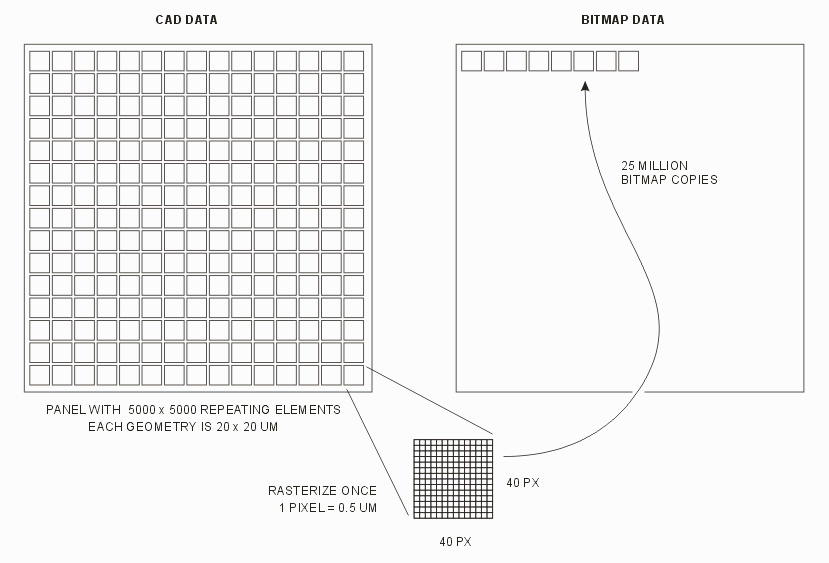 From a computational point of view this is not the most efficient approach - there are various computational costs to each bitmap copy that add up. With 25 million bitmap copies, even a small amount of overhead adds up.
It turns out that it would be much faster to spend a little more time up front and combine say, 250 x 250 of these tiny elements into a "super-block" -- a single geometry covering 5,000 x 5,000 um, rasterize that into a single bitmap of 100 megapixels, and then do a bitmap copy only 400 times.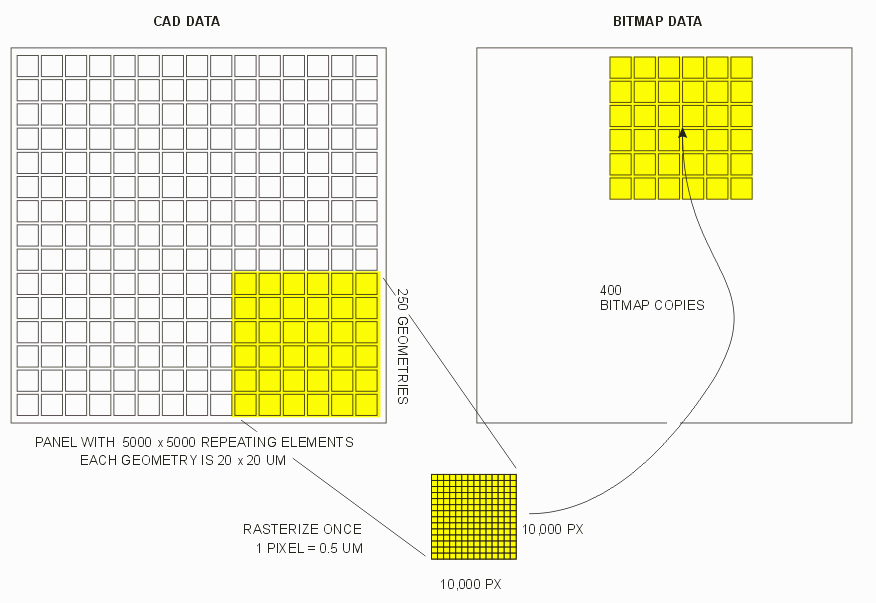 Basically we are trading off some up front computation to combine and rasterize a larger area against time spent on a large number of bitmap copies.

Unfortunately it is not easy to predict the optimal size of the super block. It will depend on the complexity and hierarchy of the layout, the overall size of the layout and so on.

The span length entered by the user is an estimate of the super-block size; i.e. the length of an edge.




What are the limitations on setting the span length?

On the low side setting it to a value smaller than the smallest repeating geometry size essentially results in no creation of a super-block. In our example above, the repeating geometry is 20 x 20 um. So any span length less than 20 um does not result in creating a super block.

In practice such small values are ignored by the program and the value is set to an internal minimum.

On the high side you do not want the span length to exceed the extents of your repeating data -- again you will not get a repeating super-block. In our example above the layout is 100,000 um on a side so any setting above 100,000 um is also not helpful.

Also on the high side, the span length should not be set to produce a super-block whose bitmap cannot fit into the raster buffer. Say for our example we have a raster buffer size of 128 MB and our pixel size = 0.5 um.
the absolute maximum span length would be 16,000 um.
Even though the max allowed value for span length is constrained by the raster buffer size it is generally not helpful to select a span length so large.
As a starting point one should select a span length that is between 25% and 30% of the smaller of:
a) the layout extents

b) the raster buffer size limit (by converting back to an area based on the DPI)
In our example above the layout extents are 100,000 x 100,000 um which would give us a starting point for span length of of 25,000 to 30,000 um. The raster buffer is 128 MB which yields a max span length of 16,000 um. So this would give a starting point of 4000 to 5300 um. Since this is the smaller value one should start in the range of 4000 to 5000 um.