SolidWorks problem importing STEP files in UM With Extents > 1000
June 9, 2016
Steve DiBartolomeo
Applications Manager
Multiple users have reported that when importing STEP files (usually in units of microns) that SolidWorks 2016 fails and issues a message:
"This model is outside of the 1000m modeling limit"
(see the SW forum thread:
forum.solidworks.com/thread/101498)
It is likely that SW 2016 STEP Import is unable to properly resize the coordinates from UM (where the values can easily be > 1000) into whatever native units is uses (likely meters.) However, older versions of SolidWorks appear not to suffer from this problem.
In order to test/verify that this is the case, we generated a simple rectangular extrusion that is 20,000 x 20,000 um (X,Y) and extruded it in the Z axis by 2000 um. We output this STEP file in units of UM.
We repeated the process but output the same 3D body in units of MM.
We then proceeded to attempt to import both STEP files into SolidWorks - versions 2010 and 2016.
Test
We start with two 3Di files of the same geometry - one is in units of UM and one is in units of MM. We then run them through 3Di2STEP and produce two STEP files -- again the same geometry but one in units of UM and one in units of MM.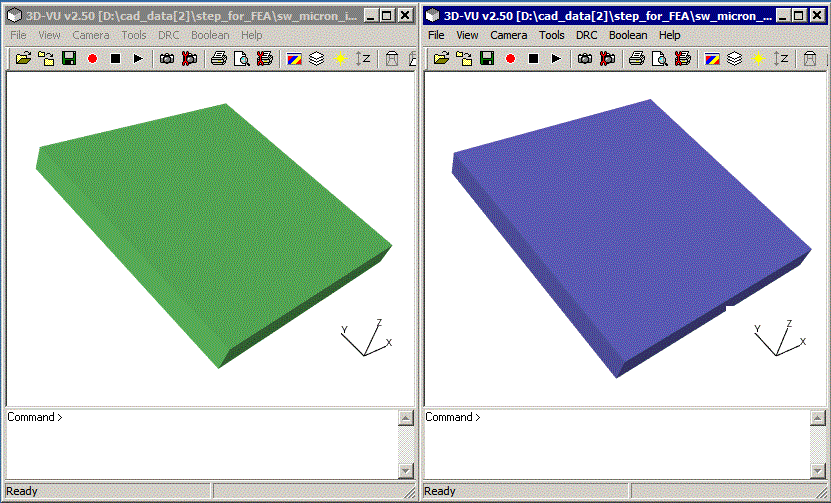 Left (green) MM; Right (blue) UM Click to download: mm_and_um_step_files.zip 7KB
After conversion to STEP AP 214 we can examine the header of the STEP file. There's nothing in the header that refers to units.