Geometry Options
NETEX-G processes polygons (boundaries). All other Gerber geometry is reduced to these entities during the boolean process. For islands surrounded by areas of metal we have found it necessary to offer several different options depending on what the next software needs to receive.
Consider the simple ground plane shown below. It consists of a rectangular region containing several round "islands". These islands represent via clearances in the design. The question arises: from a simple collection of polygons how do you describe this configuration?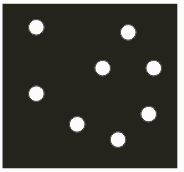 One constraint that we must always follow: All polygons must be simply connected -- i.e. one should be able to go from any point in the interior to any other point in the interior without crossing and edge of the polygon.