We now use the Heat Source Plug In to open an ASCII file (already prepared) that contains a list of cells and the power dissipation associated with each cell. The list looks something like this:

TOPHSAB_HSABPD,120
TOPHSAB_HSABPA,140
RAM64X16$F36,20
TOPALU1_ALUDP1,230
TOPMAC1_MACDP3,120
TOPMAC1_MACDP2,105
TOPMAC1_MACDP1,110
MAC242455,209
G79S8F35,40
G79S2F35,55
G79S4F35,40
TOPXYOPMUX_XYMUXDP1,340
TOPXYREGBANKS_XYDP1,40
TOPSTATCONFIG_STATDP1,400
TOPCONDINTLED_DPCND1,110
TOPUCODETIMING_CODEDP4,35
TOPUCODETIMING_CODEDP3,35
TOPUCODETIMING_CODEDP2,35
TOPUCODETIMING_CODEDP1,35
TOPINDEXNOISE_INDEXDP1,105
TOPHOSTIINTFC_HOSTDP1,100
TOPDRAMINTFC_DRAMDP5,20
TOPDRAMINTFC_DRAMDP4,20
TOPDRAMINTFC_DRAMDP3,20
TOPDRAMADDR_DRADDP1,45
RAM256X24$F36, 220
G79S0F35, 205
G62S1F35, 180

The first column in the file is a cell name and the second column is a power dissipation.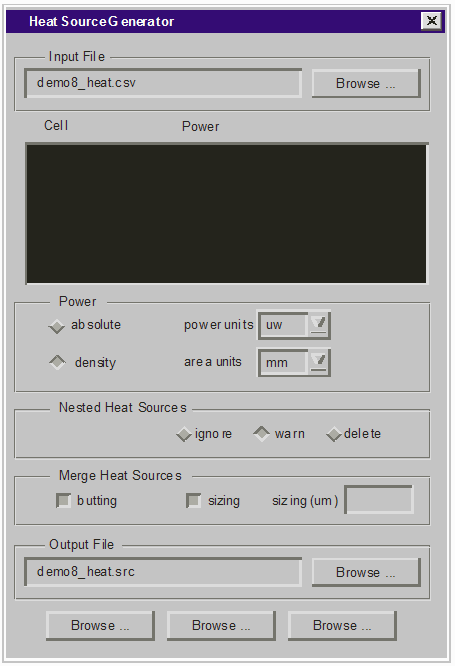 Dialog Box Fields and Functions
Input File - select the ascii list containing the list of cells and power dissipation associated with each cell. The file can be comma, space or tab delimited.
Power - Power can be expressed as an absolute value for that cell (i.e. 250 mw) or as a power density i.e. 5000w/square meter. The power units must be selected (uw, mw, w) as well as the area units (um, mm, cm, m) if density is selected.
Nested Heat Sources - if a cell in this list is referenced by a higher level cell also in the list we are faced with a quandry: are we duplicating a power source uneccesarily? The user has three options: Ignore - the program will not bother to check for nested power sources; Warn - the program will check for such conditions and warn the user but will generate all of the heat sources; Delete - the program will delete any heat source which is referenced by a higher level heat source. If the Delete option is checked, warnings will also be generated.
Merge Heat Sources - if a user specifies a cell/power and this cell is placed thousands of times in the layout then the heat source file may grow very large and this may negatively impact IcePak's ability to generate results. There is the possiblity to merge a large number of heat sources into a smaller number.
If butting is checked, then any heat source rectangles that touch or overlap are combined. If sizing is checked, then all heat sources are first sized up by the specified amount and then merged. The total amount of heat generated is preserved; however the source rectangles may include areas that did not "produce" any heat prior to the merging.
Output File - the user selects the directory and base file name for the output. Three files are produced: an ascii heat source file suitable for import into IcePak, an GDSII file showing the outlines of the heat sources, a log file summarizing the conversion which will contain the input data (list of heat sources) along with any warnings and conversion statistics.