Downloading the Target Bitmap Acquisition Plug-in
You can download the Plug-in for 64 bit Qckvu3. Qckvu3 must already be installed prior to installing the plug-in. This plug-in works with Qckvu3 v3.58 64 and later.
Requesting Password and License Strings
Prior to downloading you should contact Artwork and request the following information:
ftp server login and password
program installation password
program license strings
In order for us to generate license strings you need to provide us your machine's ID. This is best done by downloading the lmtools.zip utility and running it on your machine. Use the System Settings tab and copy the Ethernet Address that it displays. See below: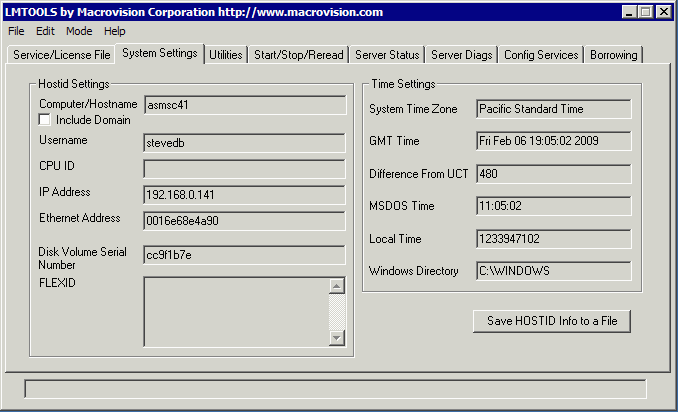 | | | |
| --- | --- | --- |
| Plug-In for Qckvu3 [64] | | 02/7/2018 v1.04 21 MB |
Problems Accessing our FTP Site?
Artwork's FTP site requires a login and password to gain access. This information will be provided to you with the license strings.
If after clicking on the link you get a This Page Cannot be Displayed error, this may be due to Internet Explorer's problems accessing password protected FTP servers. In that case, please review the possible fixes on our support page.
Firewall Blocks FTP Access
Often the problem with accessing the ftp server is due to the customer's firewall. Many firewalls are now configured to block all ftp access. The user attempting to access the ftp server will see a number of different messages, most of which do not make it clear that access is deliberately being blocked. Please check with your IT department. If such downloads are blocked, IT can usually download them on your behalf.