Step 5 Merging the Frame and the Satellite Image
At this point we have two GDSII files: frame.gds, the frame of the reticle and sat_image.gds, the satellite image which is our "product". We need to merge these two files into a single one so that the mask shop can produce the reticle.
The "product" file has to be placed 4 times -- once in each quadrant of the reticle.
To do this we use Artwork's GDSFILT program - a utility that can be used to combine, merge, filter and flatten GDSII stream files.
We start up GDSFILT and load the frame.gds file.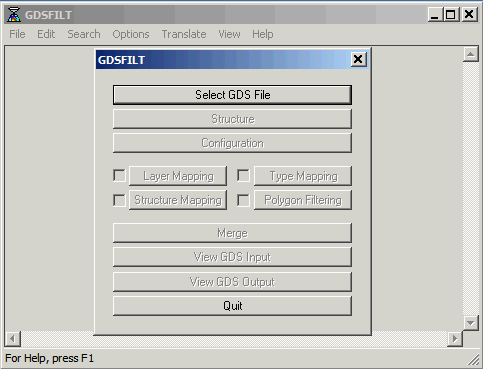 Now we go to the configuration section and check the boxes: MERGER and the box COMBINE. We define a unique top structure name since we don't want a "collision" with the existing top structure names in frame.gds or sat_image.gds.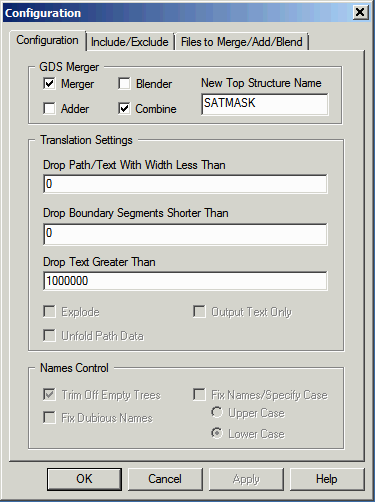 Finally we go to the tab labeled: Files to Merge/Add/Blend and we select the sat_image.gds file and the structure TOP and enter the proper coordinates.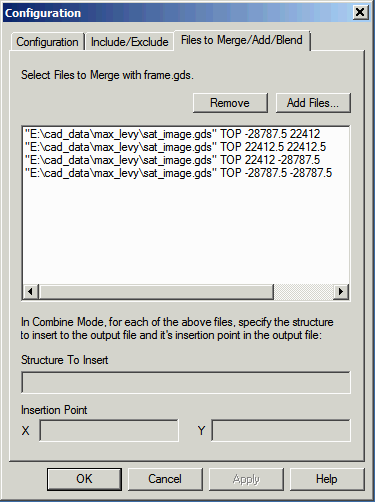 A note on coordinates ...
When the tiff2mebes program produces a GDSII file from the bitmap, it uses the lower left of the bitmap as the 0,0 point in the GDSII file instead of placing 0,0 at the center of the GDSII file. This means that when computing the insertion point one has to shift down and left by 1/2 of the size of the opening.
That's it. The resulting GDSII file can be sent to the mask shop to write the reticle.
How Long Does the Process Take?
Assuming you are familiar with the process and the tools:
| | |
| --- | --- |
| Planning | 5 minutes |
| Gray to Monochrome Conversion using Photoshop | 2 minutes |
| tiff2mebes conversion | 2 minutes |
| Drawing the reticle frame in AutoCAD | 15 minutes |
| DXF to GDSII conversion using ASM 3500 | 3 minutes |
| Merging the files with GDSFILT | 3 minutes |
| Reviewing and Measuring Results | 3 minutes |
| Total | 28 minutes |