Download GDS-SR
To download the GDS-SR, first obtain your hostid using the lmtools utility. Then send us an email requesting the ftp login/password and key codes. (Please include your full company details and the application -- otherwise we will not issue evaluation codes.)

If you already own a license you need only get the installation password. You can continue to use your existing license strings.

In order for us to generate license strings you need to provide us your machine's ID. This is best done by downloading the lmtools.zip utility and running it on your machine. Use the System Settings tab and copy the Ethernet Address and Disk Volume Serial Number that it displays. See below: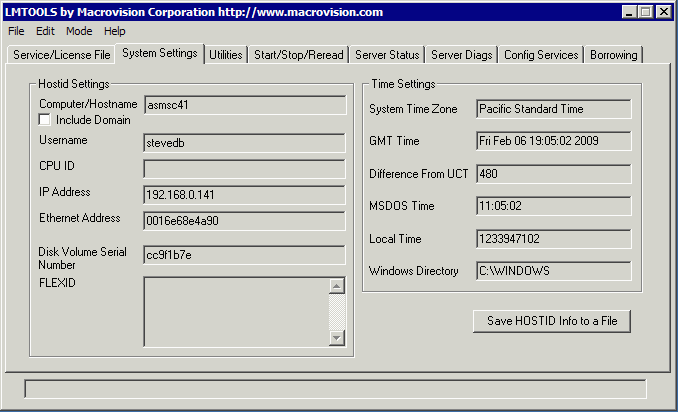 Dear Steve or Hagai

I would like to evaluate your GDS-SR program on Windows

I downloaded the installation off your ftp site.
I ran the v8_lmtools.exe utility and got the following
hostid:

00-56-A6-3B-11-0A

I plan to use the program to create wafer level masks for
RDL circuitry.

Thanks much,

John Boy  
International Harvesting and IC Design
10087 Champion Way Bldg 43
Topeka Kansas 09323
Tel (450) 132-2213
Fax (450) 132-2113
john_boy@toolshed.ihicd.com

Files to Download

GDS-SR.x86.v1.36.exe
03/15/2018 v1.36 2.35 MB




License Utility

v8_lmtools.exe

711 Kb. Flexlm license utility for obtaining machine's identity and checking license manager operation. Download this application to your computer and double click to run it. Select the System Settings tab and you will see values for the ethernet and disk volume serial number. Copy those values and send to Artwork via email along with your request for a license.