CIFVU CIF View/Plot Software
CIFVU enables the IC designer to view and plot CIF data generated from a wide range of IC design and layout programs. It runs on SunOS, Solaris, HPUX and IBM's AIX workstations and we plan to port it in the near future to Windows 95/NT.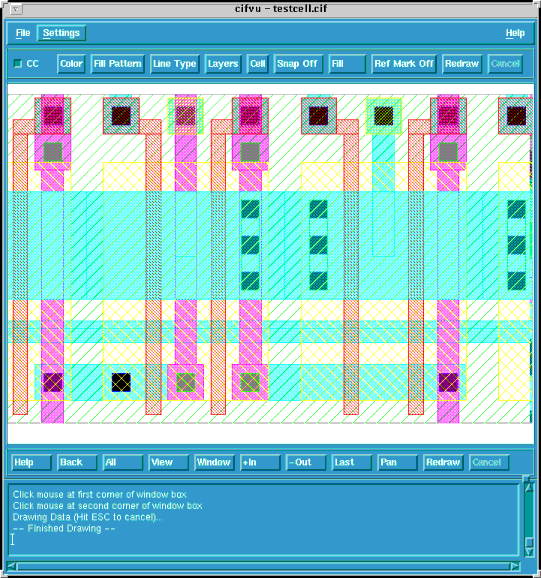 Features
Loads Quickly and Easily

Display any Cell

Display any combination of Layers

Assign Fill Patterns and Outline by Layer

Display Cell Dependency

Control Display Hierarchy
Easy to Use Motif Interface

Measure Critical Dimensions

Pan and Zoom

Plot Drivers

HP DesignJet and DeskJet

Postscript Level II Devices
Setting Layer Fills and Outlines
Each layer in the file you are viewing can have its own fill pattern and own outline color and linetype. A dialog box helps you set these values quickly and easily. Once they are set you can save them to a .map file which can be used again to view this file or other files who share the layers.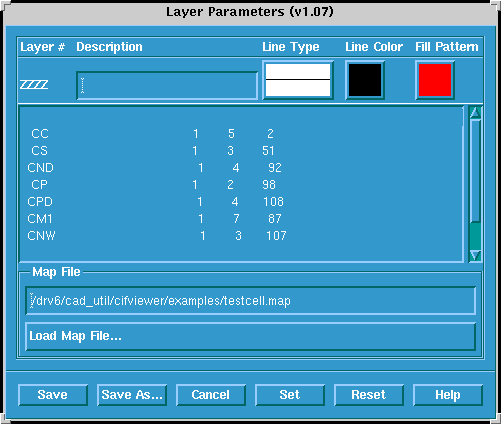 ---
Return to: CIFVU Page | Artwork Home Page